Here at 12 years old with
his "first exhibition"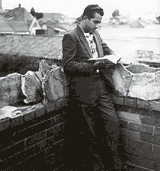 The student days...

Amilkar Ariza was born in Riohacha, Colombia in 1943. For more than 30 years, AMILKAR ARIZA practiced dentistry with a specialization in Implantology. In 1984, The International Congress of Oral Implantology in Munich - Germany, recognized Amilkar Ariza as a renowned leader in this field.
He was later honored by receiving a letter of appreciation for his global contribution to the science of Implantology by the President of the United States, George Bush. This multi-talented man has, according to his own words, achieved all of his medical-professional goals. He is also an autodidact painter and sculptor. Today, Amilkar Ariza is committed to dedicating the rest of his life to fulfilling his lifelong dream of becoming a recognized worldwide Artist.